Welcome! We are Howard and Frances Simmons and we sell and buy coins, medals, tokens, weights and scales, direct and by auction. We've been in this business since 1982 and are still passionate about numismatics. Use the keyword and category search facility. Enter a bid number to find a particular lot; create a watch list or browse the site using either Grid or Table views. Use the back arrow on your browser to return to a page. Register to make a bid. It may take a little time to get used to the new site but we hope that overall it will be easier for you.
Our latest token auction, MB94, which closed on 30th September, featured the collection of Welsh tokens and passes made by the late Emyr George: a dairyman who had a keen eye and many friends in the collecting community. It is one of the best Welsh collections and a great opportunity to buy as many of the pieces are rare, not museums, not in any public collections.
Emyr George was a dairy farmer from Wales, a collector of all things Welsh, amiable and passionate about his hobby.  He co-wrote Shropshire Tavern Tokens with Neil Todd and Andrew Cunningham.  Prices realised for MB94 can be downloaded here. updated 4 October. Lots unsold are available at the reserve plus 5% buyer's premium and shipping. If you've bid in the auction, log in to your My Account/ Auctions to checkout any lots you've won, or see prices realised for those lost.
Emyr was a great one for swapping his tokens with others, buying lots, and then exchanging them for tokens he needed for his collection. This is why we find stray English, Scottish and occasional overseas tokens scattered amongst the Welsh. We tried in our last auction in June to separate these non-Welsh out but there are thousands of tokens and it will take us several sales to offer them all. So we're only up to Glamorgan in the pub checks and up to C in the mining alphabetically. There's lots more to come and Howard used lockdown well to catalogue them.
There's a free downloadable text only catalogue as usual to help you navigate your way through the auction. Please use the categories and key word search facility on the auction pages. Corrections and notes to the catalogue can be downloaded here.
However, we're not just about auctions. When you look in the shop here on our website you will find all sorts of numismatic items at fixed prices to buy now. Browse or search by category or key words. And of course we're always looking to buy or to receive future consignments. We'll be putting up more lots online gradually.
While the pandemic continues, we regret we won't be able to attend coin fairs or congresses. However, we will be here online and will be posting news and events as things happen. Once the token auction finishes we'll have a medal auction (art and historical medals mainly 19th-20th centuries, including some more contemporary art medals). And then another token auction. So a busy period is ahead and we look forward to helping you build your collection.
Follow us on Facebook and Twitter. For monthly e-newsletter to keep up to date subscribe here.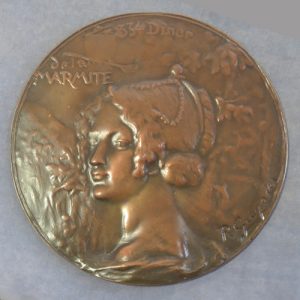 Latest News
When will we meet again?

We've been busy in lockdown (2 auctions and lots of cataloguing) but even so we've missed seeing you all at the usual coin fairs and congresses. So here's an update of what is happening in the near future, and what you might have missed. First coin fair post lockdown, the…

Read More »

When will we meet again?

New improved website!

Well in the end we decided we must upgrade as the old auction site was so clunky and created so much admin, so here's the result: a new website which we hope you'll find much easier to use. And we hope it will be easier for us to manage too!…

Read More »

New improved website!
Any questions? Just get in touch with us. We welcome feedback about our new website but remember we're still here, live off line, to help you and your collecting.