Queen Anne 1709 shilling engraved Sarah Cowdrey Jany. Ye 10 1766, obverse engraved LS, price £75 (CA137)
Update: Further information from David Powell on this coin for you.
We now know for certain that Sarah was born on 10 January 1766, daughter of William and Mary Cowdrey and baptised in St Mary Magdalen Bermondsey according to the records there.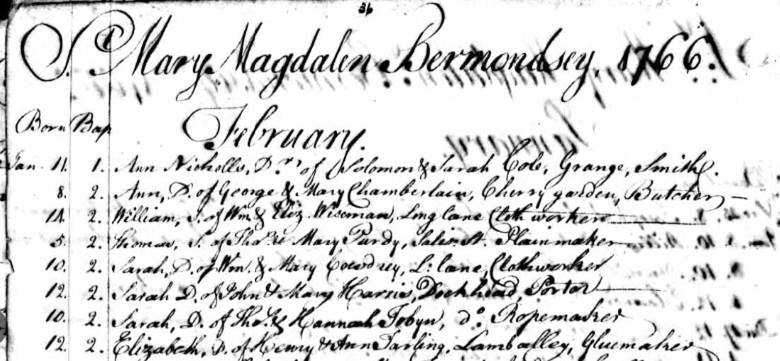 After her marriage to Robert Cleaver, Sarah lived first at Southampton Buildings and then later at Staples Inn Buildings, Holborn.   Seven children were baptised between 1786-99, and possibly an eighth in 1801.  One or two Ancestry trees say Robert Cleaver died in 1800, Sarah in 1801 but so far this hasn't been proved. I really hope Robert didn't predecease his pregnant wife who might have died in childbirth – and then what would have happened to the other children? So the story goes on.
Note from Coin News Dealer's Pick – December 2020 edition of the magazine.
Most of the items shown in 'Dealer's pick' have been super expensive, highly desirable numismatic items. But not all covetable things are in the zillionaire bracket, price wise.
Because this is Coin News I've chosen a Queen Anne 1709 silver shilling which has been altered. Many years after the date of issue, someone has turned the coin into a keepsake, a private medal by hand engraving the baby's name, Sarah Cowdrey, and her date of birth, January 10th 1766. Mimicking official medals, the craftsman has embellished the design with leafy branches in the manner of laurels. Who was she? I don't know. Why are the initial L S engraved on the obverse of the coin either side of the queen's head? Another mystery. Personally I find such objects fascinating. Sometimes research leads to identification and more storytelling. Sometimes not.
Over the years, we've had all sorts of altered coins pass through our hands, from sweetheart tokens to sad parting gifts from transported convicts. Less innocent is the altering of the coinage for political propaganda, such as happened during the Troubles in Ireland. In the last ten years, there's been a spate of fake 'Votes for Women' altered pennies of Edward VII, thanks to the publicity given by the British Museum's A History of the World in 100 objects. I've two fake ones, but would love a real one. I'm looking forward to the exhibition next year on this niche area of numismatics at the Fitzwilliam Museum in Cambridge. Meanwhile I'll content myself with handling this memento of the arrival of a baby girl.
Frances Simmons Simmons Gallery Ltd.